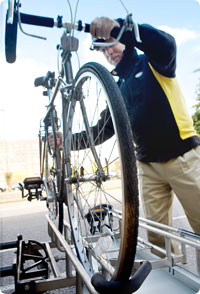 Many people think of bicycles as equipment for recreation, not vehicles for transportation. The truth is they're both.
Bicycling saves money, saves time and improves fitness. Plus, a bicycle can provide a trip to work, school, the store — virtually everywhere someone might drive. Traveling by bicycle reduces traffic congestion and has little impact on the environment.
Bicycle commuting is easy but it does require some minor adjustments in your routine. Read on for useful information for anyone — from the curious to the committed — on bicycle commuting in the Twin Cities (and beyond).
> The Benefits — Save Money, Stay Fit, Save Time, Reduce Your Impact, Enjoy Yourself
> Getting Started — The Route, The Law, The Gear
> Safe Bicycling — Traffic Tips & Signals
> Ready for Work — Low Impact Riding, Changing Clothing at Work
If you find bicycle commuting is for you, there's always more to learn. Books on bicycling are abundant. The Internet is a limitless resource as are the knowledgeable employees at Twin Cities bicycle shops.
The Twin Cities is one of the richest areas in the United States for bicycling — watching, talking and riding with other riders is a great way to learn about all of the things the region has to offer bicyclists.